Stirrers for hot drinks
For your business, we are happy to offer a stable supply of stirrers for hot drinks (Hot Drink Stirrers). Our company specializes in the production of items made of eco-friendly white Siberian birch.
All products are certified. We work according to international standards and offer classic tea and coffee facilities to coffee shops, cafes, restaurants, and other businesses. You can also order the delivery of these accessories for use in the office.
We supply wooden coffee stirrers to 15 countries around the world. In the order, specify the quantity, product characteristics, and type of packaging. We may pack it in cartridges or loose. We pack them in big boxes.
Delivery of coffee stirrers in the volume you need with the necessary regularity is carried out anywhere in the world!
Wooden coffee stirrer: parameters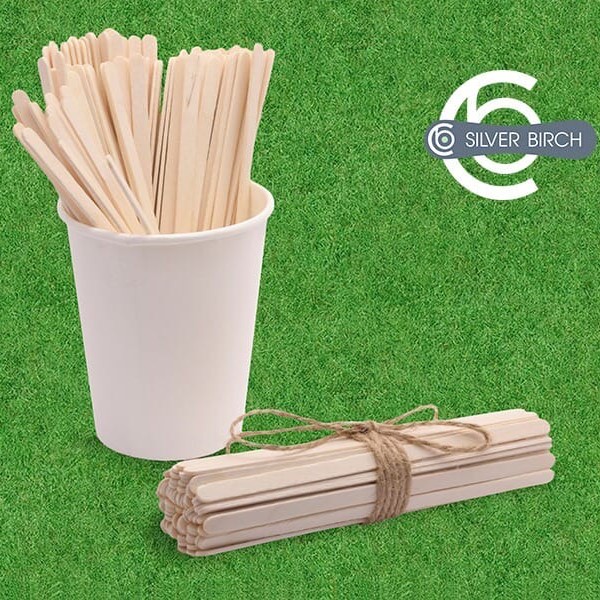 Classic coffee stirrers do not require milling. We also do not waxing these products. The remaining humidity of 8% in the finished product allows you to store coffee stirrers for a long time without additional protection. This also allows us to set a minimum price and provide you with high-quality products without unnecessary processing.
The width and thickness of the products are standard, you only select the appropriate length.
Manufacturer of wooden coffee stirrers «SILVER BIRCH»
The «SILVER BIRCH» company is one of the largest Russian manufacturers of wooden coffee stirrers and other similar products made of Siberian birch.
We monitor the quality of each stick and set the minimum humidity level for the long-term storage of products without loss of properties.
You may order wooden coffee stirrers wholesale and small wholesale. The maximum production volume is 13 million items per day. We always deliver on time. The cost of the order must be clarified by phone with our specialists. We speak Russian, English, and Chinese.
Contacts
The "SILVER BIRCH" production company begins its story in 2009
Since 2021, the Silver Birch TM has officially passed to Dartex LTD, which now supplies our products for export.
"SILVER BIRCH"

Address:

660037

, Russia, Siberia

Krasnoyarsk

Krainaya street 2a office 201

Our managers are willing to communicate in English, Chinese and Russian.