Coloured craft sticks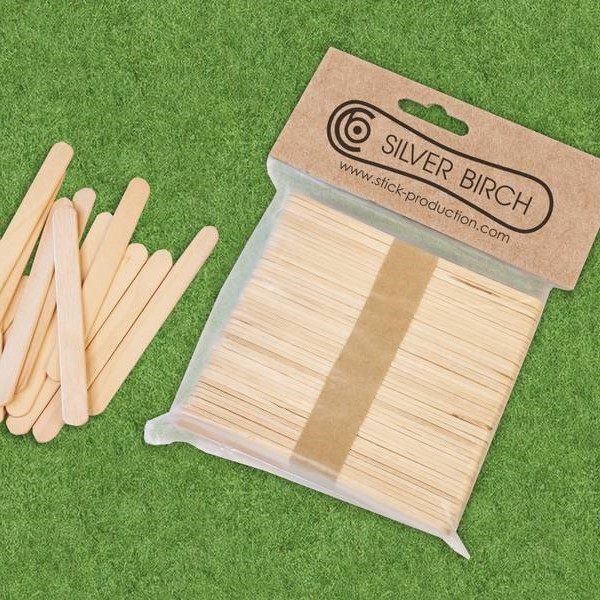 The «SILVER BIRCH» company produce several types of products from white birch. A popular products are sticks for creativity from natural materials, for corporate and personal purposes of customers. The maximum daily production volume is 13 million units.
This type of product can be used for any creative activities, for business. This is a popular material in the Floristics, children's educational classes, art classes, master classes. We produce coloured sticks for creativity from eco-friendly raw materials, Siberian birch wood. It is safe even for children.
Wooden sticks for creativity (Popsicle Wooden Craft Sticks): parameters
Our company produces internationally certified coloured wooden sticks for creativity. The residual humidity is only 8%, which guarantees long-term storage without the risk of losing the appearance of the stick. We can wax sticks by your request.
Wooden sticks for creativity are available in standard width and thickness. In the order, choose only the necessary length.
Craft sticks are not intended for contact with food or beverages. Therefore, sticks of this type may have small chips at the ends, surface roughness and slight curvature. This reduces the cost of production and does not affect the quality of creative activities.
All sticks are packed loosely. Upon your request, we will pack the Popsicle sticks in boxes or send them in polypropylene bags.
The «SILVER BIRCH» Company accepts orders for one-time and regular wholesale/small wholesale deliveries to 15 countries of the world. Your order will be delivered on time. Select the parameters of the sticks for creativity and specify the details by phone. Our specialists speak Russian, English and Chinese!
Possible ways to send an order:
by road (tented trucks);
by rail or by marine (20 -, 40-foot containers).
Contacts
The "SILVER BIRCH" production company begins its story in 2009
Since 2021, the Silver Birch TM has officially passed to Dartex LTD, which now supplies our products for export.
"SILVER BIRCH"

Address:

660037

, Russia, Siberia

Krasnoyarsk

Krainaya street 2a office 201

Our managers are willing to communicate in English, Chinese and Russian.